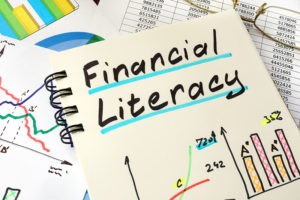 FINANCIAL LITERACY MONTH
This week I took a break from promoting financial literacy and presented a webinar on E-newsletter management and the importance of blogging as part of ​Haltech's​ ​Marketing Masterclass Series​. I presented to 25 eager entrepreneurs and it was great to improve their literacy on these 2 important forms of marketing.
I have to admit though, the whole time I wanted to raise the subject of financial literacy.
Throughout this 10th anniversary of Financial Literacy Month, we at Content Innovo have tried to stress that the resources needed to improve your financial literacy are readily available. There is no reason to remain ignorant of banking, investment and finance if you live in Canada… for the most part.
In this last blog to promote financial literacy, I would like to reach out to the Canadian banking industry and challenge them to find new ways to deliver financial literacy to all of  their customers.
THE CHALLENGE
We have learned that not everyone in Canada learns the same way. How you receive and adopt information affects how you will respond to certain learning tools. I would like to see the Canadian banking industry offer tailored learning resources that address the needs of a diverse population.
I challenge the Canadian banking industry to address these gaps.
NEW IDEAS
I am yet to see a bank offer a quiz so that a person can assess their level of understanding of personal finance. Nor have I seen a comprehensive video series or masterclass provided by a Canadian bank aimed at financial literacy. Some people prefer to learn through video and in this day and age – video rules.
Resources tailored to lower-income Canadians and newcomers are also needed
If you agree let me know and please let me know what you think of our efforts to raise awareness about the need for tailored financial literacy solutions in Canada.
Please follow us on social media this month as we highlight financial literacy resources for all Canadians.